Kimnach.org
1988 IROC-Z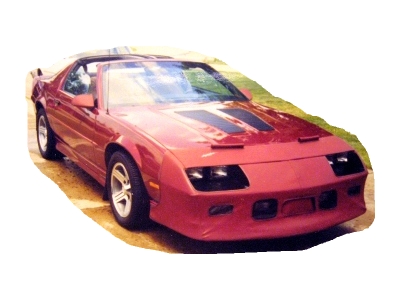 This page is a re-write and hopefully a better organized version of my previous carputer page. Here I will attempt to detail the various projects associated with my IROC.
Carputer & Audio system
Overview--why I'm installing a carputer
The hardware--the following hardware subsection contains a list of the hardware I used and product page links only.

Computer hardware

Computer case--Mo-Co-So mini-ITX case (2nd gen, summer 2008). No longer needed, since I decided to mount the carputer hardware on an 1/8 plate.
Motherboard--(Intel D945GCLF--died) AT3GC-I with 2GB RAM

2GB RAM (I say 1GB in the video, but that's wrong)

3 hard drives (20GB IDE system drive, 80GB IDE audio drive, 160GB SATA video drive)

pico-120 psu
slot-load Blu-ray recorder


Touchscreen-- Lilliput 889GL-80NP, 8" WS(I mistakenly refer to it as 889GCLF in video)
ALDL, a.k.a. OBD-I interface cable
Rear view camera & mirror--Pyle PLCM4235 mirror. I don't plan to use its included camera and I'm not sure where to mount this (on dash or standard button mount), but It'll be used....it's just a toy.
miscellaneous

mini keyboard
Pioneer DEH-P7600MP faceplate fabricated into the overhead console
Lilliput 889GL-80NP touchscreen monitor

HD Radio (Visteon HDZ300)
Dynex mini 4-port USB hub expander & passive USB splitter


Bench test and installation videos--just some videos of the installation at various stages

Audio hardware

Pioneer DEH-P7600MP Head unit

While I had a set of Infinity speakers in the front and rear for the first 15 years, I swithced to a set of Pioneer speakers all the way around. (The Infinities dry-rotted.)

Kenwood ???? (

blanked on model

)--my original Crutchfield 100Wrms x 2 channel amp died after nearly 19 years and I replaced that with used Pioneer GM-X362 and GM-X552 amps. Now that a new Carputer is going in, may as well get a new 4-ch amp.
Visteon HDZ300 receiver
Wiring--hey, power beaming and rf signal-interconnects are not viable options, so here's what i did:-)

The actual wiring--plans change, especially when installation is drawn out

Power--running the 12Vdc wiring from the battery to the various hardware

Seperate UPS for both the carputer in rear of car and for the monitor


Carputer--signal wiring, including USB, rear view camera, etc.

Audio--speakers, HD radio, faceplate, and line-level stuff.
TBD



Some videos, demos, and pictures of the carputer and overhead console can be found here.

The car, modifications, and fabrication sections
Computer related

Carputer & T-top storage--a replacement for the t-top storage bag and a compartment in which to safely mount the carputer. i plan to redo this with fiberglass and have it more rounded--the current one looks too much like a casket! I also plan to purchase used rear plastic panels and modify them, along with the fiberglassing effort, to have more stuff hidden under those....time will tell.


Bezels fabrication and installation--including original options for the touch screen and multi-format card reader

Overhead console & radar detector--modifying an S-10 OHC for the IROC
Halo, reverse-style glow gauges and 145mph speedometer--just a small mod. What the heck, after nearly 22 years of owning the car.
Performance "mods"--although I nearly had a Paxton supercharger installed in 1990, I've been satisfied with the car's factory performance. It's more than sufficient. I've only done little things.
Plans, Possibilities, and Miscellaneous
While I list the Pyle rear view camera/mirror above, that was an impulse purchase--knowing I'd like to do it but not quite sure when and how. I plan to use both monitors on the Pyle PLCM4235 with two cameras mounted in the black sections of the tail light housing. This would afford wide coverage to the rear. (I don't plan to mount cameras in the side view mirror housings.) As for the monitor, my options to mount it are:
Clipped onto the original mirror the way it's meant to be. This, although simple, would hardly be "custom."
Mount the rear view mirror/monitor in pod on the dash pad just above the steering wheel: glance down to see what's behind me, and better maintain eyes on the road in front.. (Wait, "what's behind me is not important!"--Raul Julia in

Gumball

Rally

.) If I were to do this, I would do so by either buying a sacrificial dash pad or by creating a mold of a portion of my dash, and then build the pod from that. I don't want to cut my dash pad, since it's pristine.
I plan to update my security system and driving experience with a 4-channel DVR/cameras and assorted other electronics.

Either way, it's just a toy......

Exterior

Unless you park your car in a garage year-round, things will happen. I've unfortunately had a couple of Richard Craniums damage my car in parking lots. Once at a bar, then at work. (At work of all places! No note left....yeah, we're truly reflective of society. Diversity's unintended consequences?)
looking for truly OEM-reproduction door decals.
I like the low-profile spoiler; however, I'd like to fill the seams to get a more aerodynamic look.
REPAINT!!!!

---
Destroy America: Drive Asian
Buy American: Keep the USA strong

---

Comments, broken links, questions, or concerns? e-mail me at my kimnach.org or at my roadrunner.com address

Home kimnach.org