Kimnach's 1988 IROC-Z
Carputer Overview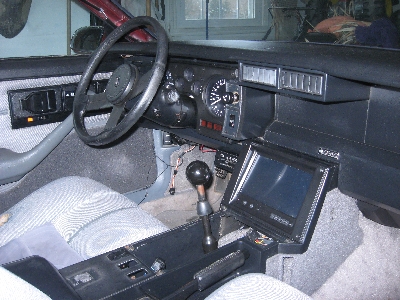 January 2009--test fit
This page is ever-evolving and does not have all text or images included. I began fabrication during the summer of 2008 but two young boys, kitchen remodeling/cabinet construction, and life in general has relegated this to the infamous "as time permits" category.....
First of all, I bought the IROC in July 1988. It has a 220HP V-8 (LB9, 305c.c./5.0L) with a 5-speed manual transmission (boy was it hard to find a manual!), T-tops, and god's little 1/2-acre of rubber (stole that line from a ZR1 review in "Car & Driver", I believe). I bought this car because my 1979 Berlinetta, which was an excellent car, was totaled when I was rear-ended by a cement-truck at a red light on tax-day 1988. (The driver was high, but I luckily saw him coming and accelerated just before the impact.) Initially I bought a 1978 Z-28 (350, 4-speed) which became known as "the Beast" and was my winter car for the next three or four years. (The IROC has never seen one of the salt-ridden winters! It's stored after the first snowfall or road salting, and it comes out of hibernation only after enough rain has fallen during spring to wash the roads of that car-eating scourge.)
Why did I buy the '88 a couple of months after buying the The Beast? The Beast unfortunately developed a rather sudden "bend in the middle option" and it kept overheating. (Made for some interesting outings--especially dates.) But I digress. Let's jump to discussing the carputer, which is still in progress.
I decided to put a carputer together for two primary and one geeky reasons:
To have the ability to easily access the OBD-1 (ALDL) data. This desire arose in the 2000-2001 driving seasons, when my car began to loose power, hesitate, and lurch. I replaced the EGR valve (boy was that fun!), looked for vacuum leaks, replaced relays and sensors, replaced the fuel filter. All to no avail. I then checked the fuel rail pressure. It was fine, but I suspected that perhaps it was my fuel pump. Now, I wasn't going to drop the rear axle to get to the gas tank/fuel pump, unless I could be sure. A co-worker told me that he had software and that if I had a laptop, we could install it and drive around to diagnose the problem. While the s/w diagnosis was inconclusive (OBD-1 just doesn't cover the range of parameter that II does), it sparked and interest in installing a computer. Having it ready and at hand. But I didn't want to carry a laptop or put a micro-atx mobo in my car. I knew that I would have to wait for technology to make it practical. This ALDL/OBD-I desire kept me from going with a linux solution for which there doesn't seem to be support, which I would have preferred (the cheap engineer in me). But the XP route did lead to Road Runner!!!!
The second reason was that I wanted to remove the Pioneer 12-disc changer and not rely on CDs (whether in the changer, or as mp3s on CD-R and played in the DEH-P7600MP).
Hey, my mom didn't react this way, but I am a technology geek and an e.e.. Who else would have owned Betamax and Amiga?
---
Comments, questions, or concerns? e-mail me at my kimnach.org or at my roadrunner.com address

Back to my IROC home page
Home kimnach.org